Book Your Appointment
Dr.Swwasti Jain ( B.D.S., MIDA, DHA, DMT Certified Root Canal Specialist & Implantologist )
Dr.Swwasti Jain is rated as one of the best dentist in Vaishali , she has completed her graduation (B.D.S.) in year 2008. Since then she has been actively involved in providing BEST QUALITY Dental Care solutions and holds expertise in Restorative dentistry (saving almost every tooth).
In order to enhance her skills in dentistry she continues to attend dental workshops, seminars (Continuing Dental Education programmes) and hands on courses. She has done her Post Graduation Diploma in Hospital Administration (DHA) and in Medical Tourism (DMT) in year 2010 from Apollo Hospital, Delhi. She is one of the Leading Senior Dentists in Vaishali providing Dental Services and Painless dental treatment since 2008.
Dr.Swwasti Jain has trained more than 100 Young dentist, who are now practising in their respective clinics. She specialize in all latest dental treatment including invisible braces , painless rct, smile designing, laser fillings, teeth splinting, veneers , crown n bridges and much more.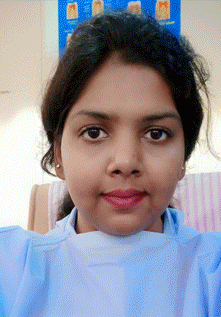 About Clinic

32 Diamonds Dental Clinic is a one stop solution for all your Dental Problems and their SOLUTION. Established in year 2008 with sole intent of providing BEST QUALITY Dental & Oral Care with a personal touch. As the name highlights "We intend to treat each of your 32 teeth as valuable Diamonds and preserve them all through ur life " If you are looking for Best Dental Clinic in Vaishali ,Ghaziabad or Best Dental Clinic near me , you should visit 32 Diamonds Dental Clinic in presence of Senior Dentist Dr.Swwasti Jain
32 Diamonds Dental Clinic has adopted world-class measures to ensure the safety of patients. Our trademarked Stringent 4 step sterilisation process is a testimony to our commitment to high standards of safety & sterilisation. We have enhanced our safety protocols under WHO Guidelines in response to the COVID crisis and are now operating with10X safety protocols.
Clinic is now deployed with new state of the art equipment- Aerosol Suction & Decontamination Unit (ASDU) & Constant Fumigation Device (CFD) to effectively manage any aerosols or contaminants in the clinic premises. We follow a zero-compromise policy when it comes to safety & hygiene. This ensures a completely sterile & hygienic environment.
Crowns & Bridges
A crown, often called as a cap, is an artificial hollow cover resembling a natural tooth crown that restores a decayed or damaged tooth to its normal shape and size. It is fabricated out of metal or ceramic
WHY CHOOSE US ?
We have over 15 years experience and Team of 6 dentist (B.D.S & M.D.S )
We are rated as Best Dental Clinic in Vaishali Ghaziabad and holds team of Best Dentist in Vaishali ,NCR
Our prices are nominal and affordable for everyone.
We also assist you in post treatment follow ups.
Root Canal Treatment
It is a procedure where a badly decayed or fractured or dead tooth is saved by removing its soft part (pulp) from the crown & the root of the tooth. Pulp is located in the core of the crown & root of the tooth